Every customer's individual need is important to us at Advanced Plumbing Services. Our main focus has always been providing quality plumbing and sturdy products. You can count on us to fix any plumbing problem you may have. We will take care of your plumbing needs, day or night.

Tankless Water Heaters
Tankless water heaters are a great way to make your home more energy efficient. Advanced Plumbing Services can install a tankless water heater to help you save on energy costs. Although tankless water heaters might cost a bit more than a typical water heater, you will end up saving you money in the long run and also, are much less likely to ever need replacement or repair.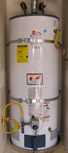 Water Heater Installation
If you are looking for a standard water heater we can install a new one for you. Some older water heaters should be replaced opposed to having repair work done due to their condition. We will give you an honest evaluation of the condition of your water heater and let you know if it is best to have it replaced.
Water Heater Repair
When a water heater is in good condition but just has problems we will gladly repair your water heater. You will find we have some of the best water heater repair rates in the greater St. Petersburg area.

Water and Gas Repipes
If a pipe breaks in your home, many times it just needs to be repaired. If problems continue to arise, you may need to have your system checked to see if just part of the system needs to be replaced or the entire system.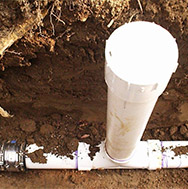 Sewer Line Repair
Broken or leaking sewer lines can cause serious problems. Tree roots can penetrate their way through your household's sewer lines or a clog can form, requiring professional intervention. Advanced Plumbing Services has the experience to correctly identify your issue, and take the steps required to get your sewer lines working like new again.
Water Line Repair
The most important step if you have a broken water line is to first shut off the water to the house. If you do not know where it is we may be able to tell you over the phone. A broken water line in a house can cause real damage. The best thing to do is to have the broken water line replaced or repaired. Then you can move onto the other things that may need to be taken care of after a water line breaks.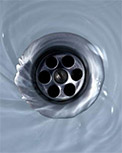 Sewer Drain Cleaning
The main sewer line is the largest drain your home. All of your household's drain lead to the main sewer line. Debris from other drains can create a clog that requires professional help to remove. We can handle any type of sewer problems you may have.
Shower Drain Cleaning
Shower drains get clogged very often and it is one of the most common types of calls we get. Advanced Plumbing Services is one of the most affordable shower drain cleaning companies you can call.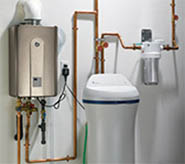 Water Softeners
Advanced Plumbing Services can install a water softener in your home to alleviate problems caused by hard water, like spots on dishes, odors, and clogged drains.
Water Filtration
Installing a complete filtration system can provide every faucet in your home with clean, filtered water, clear of any impurities from your water supply.

Slab Leaks
If your foundation is a slab foundation a simple wet spot in your carpet can become an enormous problem very quickly. We can identify the origin of the leak and fix the leak before it becomes detrimental to the structure of your home.

Plumbing Fixtures
We offer fixture services from fixing a leaky toilet to a complete bathroom remodel. Don't put off those bathroom repairs until they become an emergency that could end up costing you much more. If your plumbing fixtures are outdated or your fixtures are broken, we can replace the old ones at a reasonable price.

Handicapped Restrooms
We can install any bathroom amenities you need to make your bathroom one hundred percent (100%) handicap accessible. Whether it be grab bars in your shower, or you need to replace your porcelain, we will make sure you have everything you need to make your restroom handicap accessible.
Advanced Plumbing Services serves all of Central Florida, Coast to Coast.
Including but not limited to the following counties: Pinellas, Pasco, Hillsborough, Citrus, Hernando, Polk, Sarasota, and Manatee.